Posted: 08/12/2021 15:10:34
In rounding off a weekend of celebrations for Glenlee's 125th the director of Nationals Historic Ships (NHS), Hannah Cunliffe, came to the present the annual lecture entitled, 'A tall ship and a star to steer her by - setting a course for the future of maritime heritage'.
The 2021 annual lecture was a hybrid event, mixing a welcome return to some old and new friends of the Glenlee onboard, with an online audience joining via Zoom.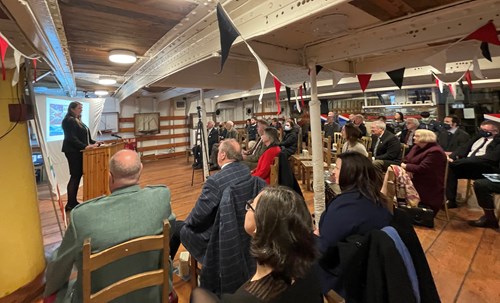 Hannah Cunliffe exudes a passion and love of the sea and leads the organisation that offers support and guidance to the custodians of more than 1,300 registered historic vessels around the UK.
Understanding the feeling that has driven so many historic vessel owners to put their time, resources and energy into the ships and boats from our maritime past which survive today gives Hannah a unique perspective to look to the future of historic vessels like our own Glenlee.
As National Historic Ships Static Flagship of the Year 2021, the Tall Ship Glenlee has highlighted the changing nature of the ship to remain viable in order to survive through the story of her 125 years, and has now set ambitions to ensure the ship can continue to adapt to future changes and the need to stay relevant in today's society.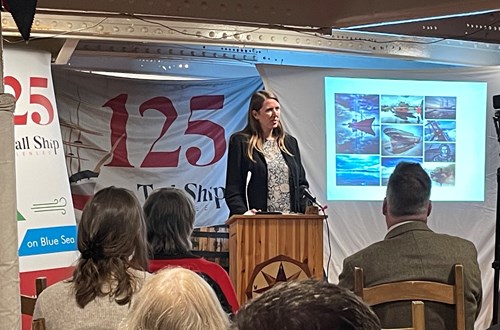 "So how do we make sure that ships which are significant survivors, like the Glenlee, If passion alone is not enough to save them, what do we need to do to make sure they will still be here in 50 years to come?"
"Glenlee was built in 1896 as a bulk cargo carrier and she operated in this form for 23 years under the red ensign. After three years trading in the Mediterranean, she began a new life as a sail training vessel in the Spanish Navy, re-named Galatea and remained in this role for 47 years becoming a rare survivor of her original type and function."
"Although Glenlee's primary function is now as a preserved ship open to the public, she is already so much more than a Museum, being also a space for concerts and other events, a focus for learning activities and a venue available for commercial hire."
The lecture provided numerous case studies from around the country that demonstrated the versatility, creativity, and impact a historic vessel can have on people.
"Historic vessels are inextricably linked to people – we built them, we used them for work, pleasure, trade or service and today we seek to revisit our past through them."
Following questions, Hannah kindly presented a number of gifts to the volunteers who continue to care for the Glenlee and without whom the ship would no longer exist.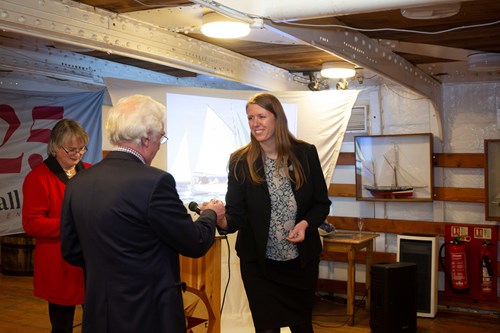 Hannah noted. "Volunteers are the lifeblood of the sector – but it can be difficult to attract young volunteers and, if you do, to keep them."
"Our sector is built on passion and will remain so. And, because we have that passion to drive us on, we will find a way to share it with others, to learn the new digital skills we need, to make our ship relevant in a changing world and to do everything we can to fight the climate change battle."
"The challenges we face are real but, as we celebrate the 125th anniversary of Glenlee tonight, she gives us a tangible example of how long these vessels can last with the right care and attention. We give our lives to these ships because we love them - and there's no better reason than that."
We thank Hannah very much for sharing her knowledge and we managed to record the event to be able to share the great insights for others with a passion for charting a future for historic vessels.