Posted: 08/02/2023 16:47:51
November 2022 saw me skipping university to spend a week aboard the tall ship Glenlee sharing the story of apprentice Ernest 'Andy' Andersen with local Glasgow schoolchildren. I first met Andy a few months prior, upon my successful application to be the storyteller on the 'Apprentices Tale' project. I am a traditional storyteller, generally working with myths, legends, and folktales. This project was my first opportunity to engage in professional historical storytelling. I was tasked with bringing Andy's logbook, which charts his journey from Sydney to Cape Town in the final months of WWI, to life in an interactive storytelling piece aimed at school groups.
Andy's logbook came to me as tidy pdf email attachment, a stark contrast to the scrappy exercise book he had scrawled in over a century ago. Sitting on the floor of the copier room in my university library, printing out page after page of neatly typed transcription, I began to read. I fell straight into Andy's world. I found a sarcastic, funny, principled, often grumpy, often bored and constantly hungry young man. He was a teenager – just a year younger than me. The logbook shifts between attempts to emulate the stiff professionality of a captain's log, the informal grumbling of a teenage diary, and surprisingly beautiful descriptions of the stillness and calm of ship life ocean while the war rages chaotically on. An ordinary lad experiencing extraordinary things.
When developing Andy's logbook into a storytelling piece I struggled to find an angle. I wanted to be true to myself and Andy, avoid 'becoming' him or info dumping, and be as engaging, dynamic and entertaining as possible. The amazing Dan Serridge was a fantastic mentor, helping me puzzle through my avalanche of ideas, finding the thoughts that shone and encouraging me to think about the ship itself. Instead of telling Andy's story linearly, I decided to frame Andy and myself as fellow apprentices – me of stories, he of the ship – and choose a few 'episodes' from his log – small, everyday adventures about the antics, animals, shanties, friends and storms that gave revealing insights into life aboard ship and the character of the teen who wrote about them.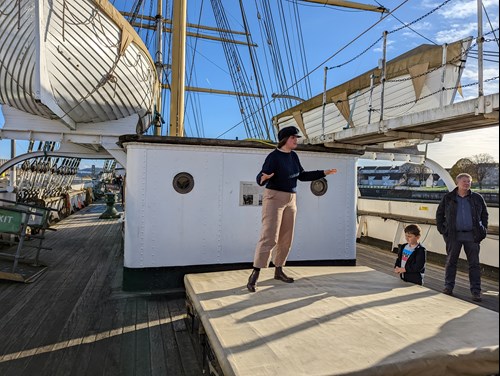 Performing Andy's tale to school groups throughout the week was incredibly rewarding. The endless rain, deafening bridge construction and the roar of traffic on the AB14 faded away as I introduced class after class to Andy, the Glenlee his friends and his adventures. Each group drew different elements out of the piece. I had young Primary 4s enthralled by the enormity of the ship, bursting with questions, who loved hunting for the missing ships cat. I had high schoolers who could've been Andy's contemporaries, awed by the idea of leaving their families to sail across the globe during a war. They reminded me of just how young Andy was, and when they laughed and joked together, I could almost hear the echoes of Andy and his friends teasing and playfighting on deck. We even filmed the piece with a talented videographer, creating a permanent record of the live experience I shared with the kids (as well as the several rather embarrassing TickTocks that were filmed). Over the week the piece strengthened, as I perfected the poetry of Andy's story and navigated the ship with more ease. By the final weekend I was dreading saying goodbye – to Andy, the kids, Lauren – Learning and Museum Manager who ran the project with such enthusiasm and definitely kept me sane – the amazing crew, and the story itself.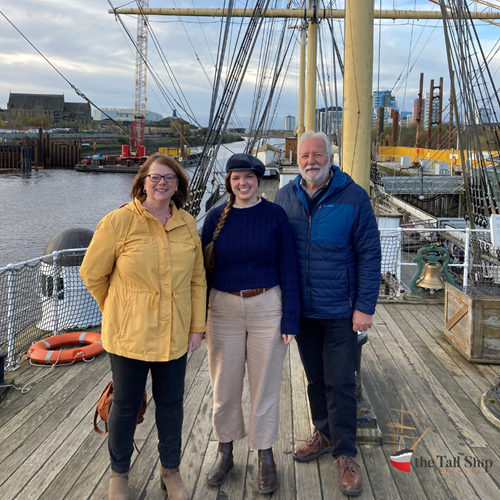 On Saturday – the final day of the project – I met Andy's granddaughter, who had travelled up to see the performance. We had emailed before, and she had been incredibly supportive and encouraging. We had a chat before the final show, and she and her husband showed me so much warmth and kindness. I'd felt such immense responsibility as a young, relatively inexperienced creative professional to take care of Andy's story for them, so their enthusiasm was a huge relief. The final performance was not to children, but to the Friends of Glasgow Museums and Andy's granddaughter. During the show I sing a shanty Andy mentions in the logbook – Rio Grande. I had spent hours listening to versions of the shanty on Spotify – while running, writing essays, doing dishes, and researching the project. It had become a soundtrack to my life for months. When I lifted my voice in the chorus, I found 40 voices lifted with me, reverberating throughout the ship. I could almost see the shapes of Andy's crewmates sitting on deck, singing to the wind. Their silvery shadows seemed to hang in the air as I finished the show. That final performance was my favourite – everything I'd learnt culminated perfectly together. Later that day, forehead pressed against the train window, watching the Glenlee's masts fade behind me, and I wished I could begin the week again.
Andy will stay with me for the rest of my life. This has been the first major commission of my professional career, my first significant piece of applied, commissioned, historical storytelling and will be a reference point for future projects – I would love to spend the rest of my life teasing out stories of ordinary people's adventures from floorboards and rigging. But most of all I'll remember the lad I came to know through his words. He went on to marry and have children, dying peacefully on land, but to me, and the children I shared his tale with, he will forever be eighteen.
There are over 100 children in Glasgow right now who carry a memory with them. A memory of a storyteller standing on the hatch of a Glasgow-built tall ship beneath towering masts, swaying in the wind, shouting out a story to the sky. A story of a young lad just like them, an ordinary lad, who experienced extraordinary things.
– by Ailsa Dixon
This event has been supported by the Year of Stories 2022 Community Stories Fund. This fund is being delivered in partnership between VisitScotland and Museums Galleries Scotland with support from National Lottery Heritage Fund thanks to National Lottery players.
We would also like to thank and acknowledge the valuable support from the Friends of Glasgow Museums and the Andersen family.