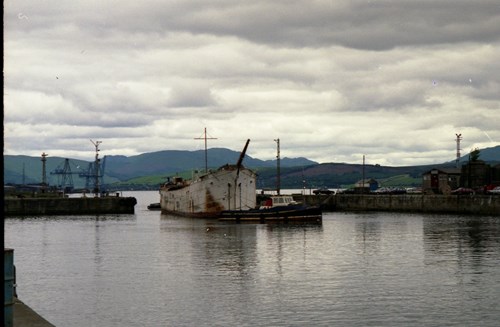 9th June 2023 marks thirty years since Glenlee returned to the Clyde in 1993. While the story of the ship's identification, purchase and rescue is one of determination, stubbornness and cooperation, the journey back to Scotland is one of great adventure and bravery from the three men who rode the ship home to Scotland.
The three men chosen to accompany Galatea back to the Clyde were Captain Alistair Miller, a Senior Clyde Pilot; Lt Cmmdr. (Eng) Murray Scrimgeour; and Charlie McIntyre, a retired foreman rigger from John Brown Shipyards. Murray had arrived in Seville a few weeks earlier in May to make the essential preparations for the journey. Alistair and Charlie flew in at the end of May, ready for their adventure.
Over the next nine days, we will share Alistair's logbook entries from this epic journey on the run-up to the moment when the ship entered the Clyde on the 9th of June for the first time since the launch 97 years previously.
Alistair served as Captain during this voyage, in effect becoming the last captain of Galatea.
31st May 1993 - Final preparations are made
1st June 1993 - Adiós Sevilla!
2nd June 1993 - A Nocturnal Inspection
3rd June 1993 - Smooth Sailing?
5th June 1993 - Warding off scurvy on the Bay of Biscay!
6th June 1993 - A bump in the night
7th June 1993 - Feeling Scilly